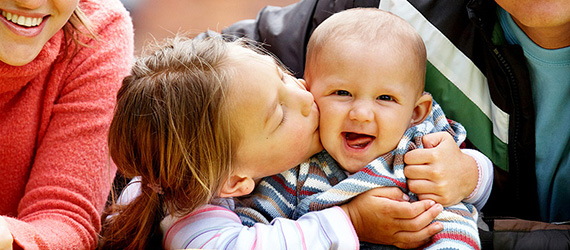 A Growing Population of Caregivers
Raising the child of a relative can be challenging. It can also be rewarding. Grandparents are faced with a number of issues for which they may be totally unprepared. Those include but are not limited to legal, financial, housing, educational, physical and mental health issues. According to The Census Bureau, in Massachusetts grandparents raising their grandchildren increased by 30 percent over the last decade. In 2012, roughly 36,000 grandparents were raising their grandchildren.
Finding support as you raise a grandchild is very important to your own well-being. Many of these grandparents often lack information about the range of support services, benefits and policies they need to fulfill their caregiving role. Support groups are one way of obtaining information as well as meeting with other grandparents who understand what you're going through. In the Worcester area this type of group exists. Regular meetings provide a forum to share information and discuss issues and concerns of kinship families. The group also brings in expert speakers on a variety of issues.
Grandparents Raising Grandchildren Support Group
New meeting day beginning in August 2017!
Meets: the second Monday of each month
From: 6:00 PM- 8:00 PM
At: The YWCA 1 Salem Square, Worcester, MA 01608
Free Childcare provided.
The Massachusetts Family Caregiver Support Program recognizes grandparents and other relatives raising grandchildren) as caregivers. The program can offer support and education about resources in the community. For more information please call Elder Services of Worcester Area, Inc. at 508-756-1545.
Worcester Connections Family Resource Center of YOU, Inc. sponsors two other support groups, one in English and one in Spanish.
Grandparents Raising Grandchildren
Information/Support Group
Specializing in Helping Grandparents Connect with Community Resources
1st and 3rd Wednesdays of each month
From 11:00 AM – 12:00PM
Free Childcare provided.
Please let us know if you plan to attend!
South Bay Early Childhood, 548 Park Avenue, Worcester, MA 01603
Call 508-796-1411 for more information or to RSVP
Worcester Connections Family Resource Center de YOU, Inc. Presenta
Abuelos Criando Nietos
Grupo de Información y Apoyo
Especializándose en Ayudar a los Abuelos a Conectarse con Recursos en la Comunidad
1º y 3º Miércoles de cada mes
Por favor comuníquenos si planea asistir!
de 11am-12pm
South Bay Early Childhood, 548 Park Ave., Worcester, MA 01603
Llame al 508-796-1411 para mayor información o para RSVP.
Cuando el Centro está abierto, usted debe RSVP. Traiga nuevos recursos que usted ha llegado a conocer o traiga sus preguntas acerca de recursos que usted está buscando. Disfrute de un ligero refrigerio y construya supropia red de contactos y apoyos.
Click here for a complete list of Caregiver Support Groups
Click here to go back to the Family Caregiver Support Program page
Save
Save
Save
Save
Save
Save
Save
Save
Save
Save
Save