This Month's Supper Club:  No Supper this month – Election Day

This month's Lunch Club dates:  November 14th and 28th
This month's menu:   View to menu for November 2018
The Rainbow Lunch and Supper Clubs
The Rainbow Lunch Club offers LGBTIQA* seniors age 60+ a nutritious meal and an opportunity to socialize with friends and enjoy various activities including programs, entertainment and educational series.
The Rainbow Lunch Club meets the 2nd & 4th Wednesdays of each month at the Unitarian Universalist Church of Worcester, 90 Holden Street, Worcester, MA. Lunch is served at noon, followed by entertainment, activities or programs.
The Rainbow Supper Club gathers the first Tuesday evening of each month at the Unitarian Universalist Church of Worcester, 90 Holden Street, Worcester, MA. Supper is served at 6:00pm, followed by social time.
Advance reservations are required.
A wide variety of nutritious meals are offered ranging from roast turkey to salmon, meatloaf sandwiches to vegetable alfredo and shepherd's pie to macaroni & cheese. All the meals are prepared with no added salt and meet 1/3 of the recommended daily intake for persons age 60 and older.
Reservations & Cancellations: If you wish to attend the Rainbow Lunch or Supper Club or cancel your reservation, please call or email WLEN one week before at (508) 756-1545 ext. 404 — wlen@eswa.org. If no one is available please leave a message including your name and phone number and date you plan to attend.  You may also make your reservation through our on-line Meet Up group here.
Is there a cost to participate? We suggest a $2.50 donation from guests age 60 and older. The fee for all guests under age 60 is $5.50. Donations and fees help to defray the agency's cost. The donation is anonymous and voluntary; any amount you can contribute is appreciated.  As always, no eligible senior will be denied service based on their income or their ability to make a donation. We thank you for your continued support and generosity!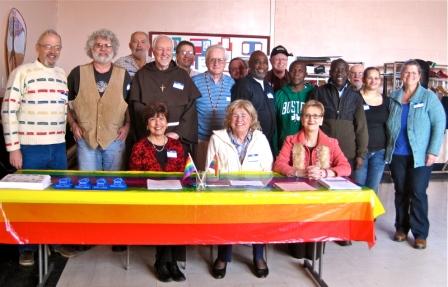 Important Notice about Inclement Weather: If the Rainbow Lunch/Supper Club is cancelled because of inclement weather (snow, icy conditions, etc.), the   cancellation will be announced as "Elder Services of Worcester Meals on Wheels and Dining Centers are closed" on: WCRN 830AM, WTAG 580AM,  and WXLO 104.5 radio stations and WHDH Channel 7 website. You may also call the Nutrition  Office at (508) 852-3205 after 8:30am for cancellation information. Cancellations are also posted on ESWA's website and social media pages.  Please note that evening meals are always cancelled when daytime meals  are cancelled.
For more information please read our brochure
WLEN– Worcester LGBT Elder Network, is a joint effort of Elder Services of Worcester Area Inc.,Central Massachusetts Agency on Aging and the Worcester Senior Center.
The Nutrition Project is administered by Elder Services of Worcester Area, Inc. and receives federal financial support under the Older Americans Act provided by the Central Massachusetts Agency on Aging and the Massachusetts Executive Office of Elder Affairs. Funders also include United Way of Central Massachusetts, Greater Worcester Community Foundation, local Councils on Aging, participant donations, grants and individual support.
Save
Save
Save
Save
Save
Save
Save
Save
Save
Save
Save
Save
Save
Save
Save
Save
Save
Save
Save
Save
Save
Save
Save
Save
Save
Save
Save
Save
Save
Save
Save
Save
Save
Save
Save
Save
Save
Save
Save
Save
Save
Save
Save
Save
Save
Save
Save
Save
Save
Save
Save
Save
Save
Save
Save
Save
Save
Save
Save
Save
Save