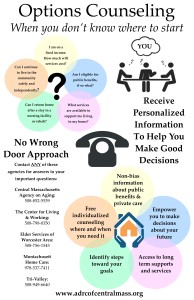 Sometimes elders or their caregivers need help or information but they don't know where to get it. Other times they do make a call but it's to the "wrong" agency or program. Since 2003, the Massachusetts Aging and Disability Resource Consortia (ADRCs) have participated in a program called "No Wrong Door," designed to connect people with the help they need wherever they call. No Wrong Door means that no matter where an elder or caregiver calls they will be directed to the "right" place for them to get help.
The mission of the Massachusetts ADRCs is to provide consumers, regardless of age, disability, or income, with access to services and information. ADRCs offer information and referral services, Options Counseling and assistance with decision support, service planning, and consumer-directed options regarding long-term services and supports. In Massachusetts, ADRCs address each individual's unique needs, goals, and choices to live independent lives in the setting of their choice, no matter how old they are, how much money they have or what abilities they have. The Executive Office of Elder Affairs (EOEA) and the Massachusetts Rehabilitation Commission (MRC), administer the No Wrong Door model in partnership with 27 Aging Service Access Points (ASAPs), three free-standing Area Agencies on Aging (AAAs) serving seniors age 60 and over, and 11 Independent Living Centers (ILCs) serving people of all ages with disabilities.
The core members of the regional ADRCs enter into a memorandum of understanding with each other, EOEA and MRC. The memoranda clearly articulate the overall relationship, expectations and points of accountability related to the ADRC initiative. Each ASAP, AAA and ILC offers accessible physical locations throughout the state.
Across Massachusetts, there are 11 regionally-based ADRCs providing statewide coverage. In Central Massachusetts they are:
Center for Living and Working Inc. 508-798-0350 www.centerlw.org
Central Mass Agency on Aging 508-852-5539 www.seniorconnection.org
Elder Services of Worcester Area 508-756-1545 www.eswa.org
Montachusett Home Care 978-537-7411 www.montachusetthomecare.com
Tri-Valley Inc. 508-949-6640 www.trivalleyinc.org
When a call is received by any of these partners, they can assist the consumer in several different ways. The person taking the call can make a referral to another agency and fax it to them. Information workers can transfer the consumer directly to the agency they need services from or they can give the consumer the address and telephone number of the partner agency. This allows consumers to get information and services in a timely, less-frustrating, and more personal way so they can make good decisions.
For more information, call any of the agencies in the consortium or visit www.adrcofcentrallmas.org.